In this article, you'll learn how to get backlinks from Google.
In particular, you'll get a step-by-step guide on all the ways for how to get Google backlinks to your website from Google-owned properties.
Some of these links are dofollow backlinks while others are nofollow links. However, many SEO experts consider any type of inbound link you can get from Google to be high quality backlinks that can help your website rank higher in the search engine results pages (SERPs).
By the end of this page, you'll know the top methods for incorporating Google into your link building strategy so you can choose the best technique for your own website or a client's site.
What Is a Google Backlink?
A Google backlink is a backlink from a Google-owned website property. Google backlinks are inbound links to a website or some other web resource from properties like Google Sites, My Business Profile, Google News, YouTube, Docs, and Sheets that are crawled and indexed in the search engine results pages.
Backlinks from a Google property are considered to be beneficial for SEO because these websites have naturally high PageRank authority. High PR backlinks can help your site rank higher in the SERPS because some of the PageRank value is transferred to your domain (or individual web page) through the link which Google's algorithm takes into consideration during the indexing and ranking process.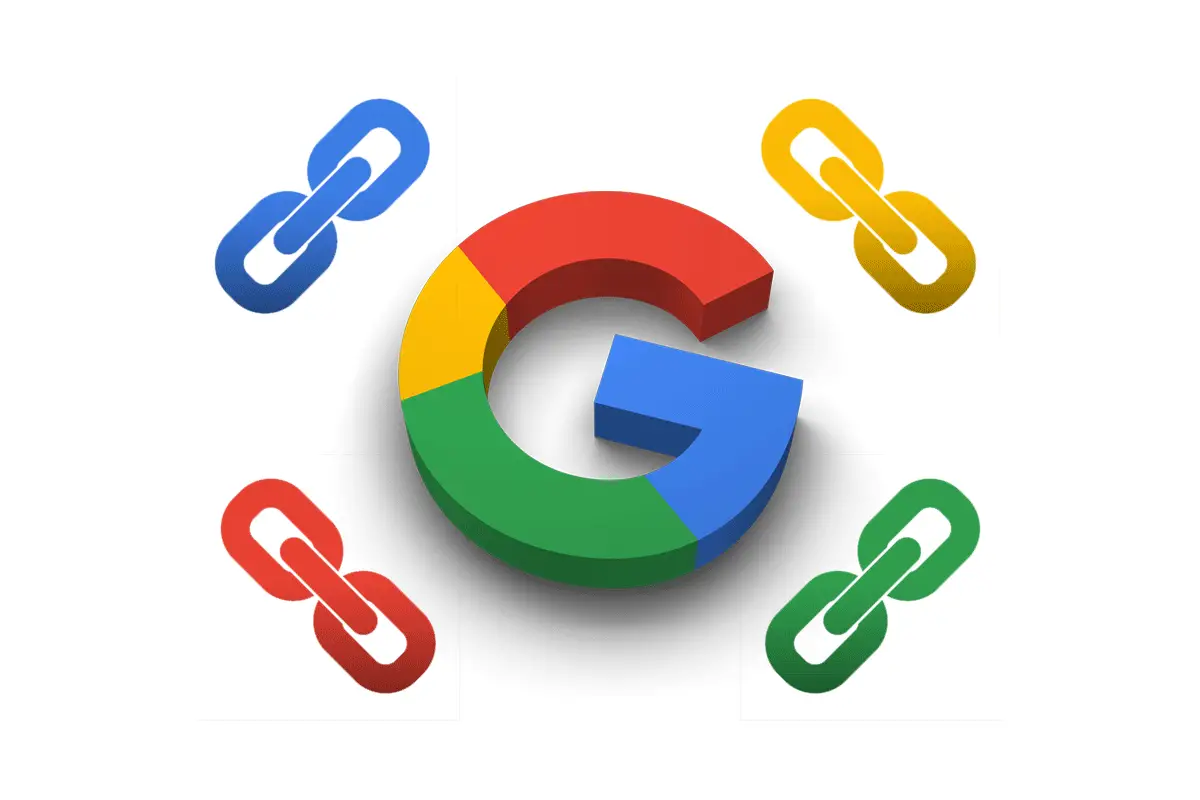 How to Get Backlinks From Google
1. Get Backlinks From Google Sites
The first method for how to get backlinks from Google is to create a Google Site.
Google Sites is a free website builder from Google that you can use to create websites for your business or personal interests. You can also give access to other collaborators who have a Google account.
Like any website, you can add hyperlinks to Google Site web pages that become backlinks for the target site. What's also great about Google Sites is that they're compatible with other Google properties, like Calendars, Docs, Sheets, YouTube, etc, that you can easily insert into the site to create backlinks for those properties as well.
2. Use Blogger for Backlinks
Another strategy for how to get Google backlinks is to use Blogger for link building.
Blogger is Google's free content management system (CMS) for users who want to set up a personal or business blog for blogging. You can create, write, and publish content on any topic you want, and include dofollow links to your website and other Google properties.
(Note: You can check out this other guide on how to get dofollow links for SEO to find more ideas around this topic.)
3. Create a Google Calendar
Google Calendar is another useful service you can use for improving your website's off-page SEO with link building. While its primary purpose is for scheduling meetings and events, Google Calendar has a function that allows you to insert hyperlinks into calendar events.
Follow these steps to use the Calendar app to get a Google backlink:
Create a new Google Calendar.
Set up a new event in the Calendar.
Add a description to the event and use the text field to insert a hyperlink to your website or another web resource. This link can either be a URL link or a contextual backlink.
Make the Calendar available to the public by changing its settings for events.
4. Get Links From Google Cloud
The Google Cloud Platform lets you build and deploy websites and applications using the same infrastructure as Google. And, you can harness the power of this platform to build backlinks to your website and other important web resources.
After joining Google Cloud, you just need to create a new project, then create a new bucket. Inside the buck, you can upload HTML files that include backlinks to any website property you want. However, these links won't be crawled or indexed unless you follow one additional step.
Edit the bucket permissions, then click "Add Member". Next, type in "allusers" into the search bar, and select the allusers option. This opens up the bucket so it can be accessed by the public for crawling and indexing purposes.
5. Add Backlinks In Google Docs
Google Docs is a free online word processor that allows you to create and edit text documents in your web browser. It's also a prime resource for creating backlinks from Google.
All you have to do is create a new a new document and add your hyperlinks. However, just listing a bunch of backlinks is not the best strategy for SEO. Instead, treat this Google Doc like a real web page that you want to rank in the SERPs.
Optimize the Doc for on-page SEO like you would any standard web page and include your backlinks in a natural way without being spammy. Then, edit the permissions for the Google Doc so anyone with the link can view it and publish the document to the web so it can get indexed in the SERPs.
Click Share > Get Link.
Under "Get Link", click "Change to anyone with link" so the document is crawlable and indexable on Google's SERPs.
Under the File menu, choose "Publish to Web" or go to Share > Publish to Web, depending on the Google asset you're creating. See the image below for an example.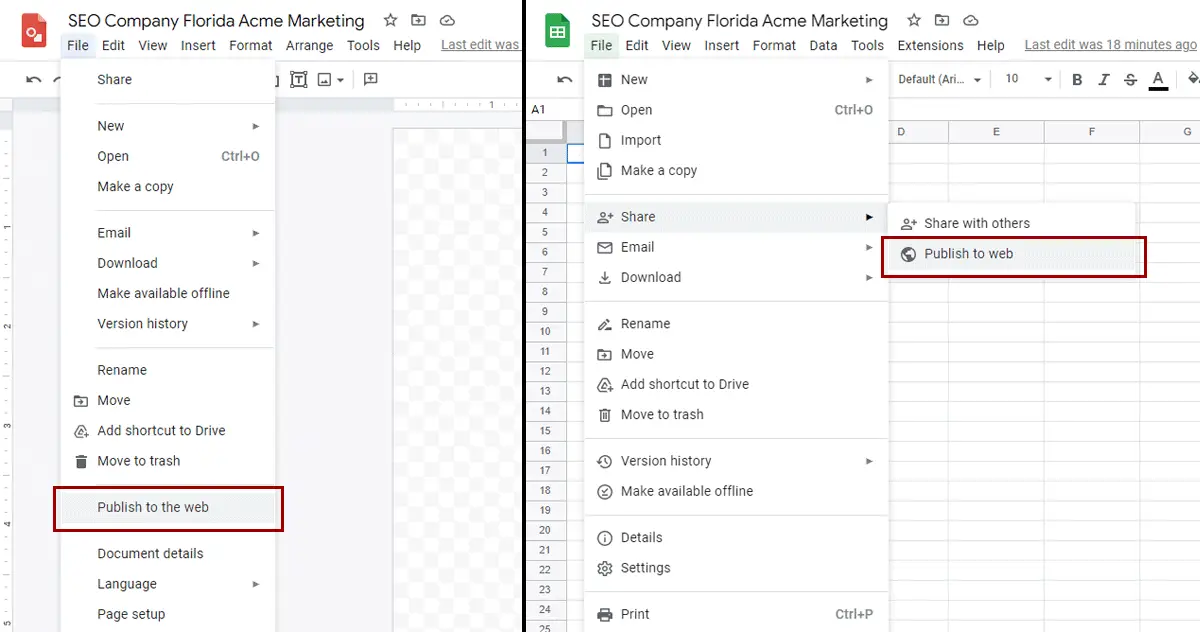 6. Set Up a Google Earth Pin
According to local SEO marketing experts, you can also get backlinks on Google Earth with placemarks. Within a placemark, you can format text, add images or video, and insert web links.
After you create a new placemark for a local business, you can type the web address into the description which will then automatically appear as an active backlink or highlight a piece of text you want to appear as a contextual backlink, then click the "Add Link" button and insert the web address for the inbound link.
7. Develop a Google Form With Links
Google Forms are a great way to survey your website audience and get feedback to grow your business. Forms are also useful for creating Google backlinks.
However, a link can only be added to the description section of a Google Form and it can only contain the naked URL text. To insert a hyperlink, go to the description field at the top of the Form and type in your website's URL or add a new "Title and Description" section to the Form layout by clicking on the double "TT" icon and putting the URL in the description area of that section.
After you're done creating your Form, you'll then want to open it up to the public so it doesn't require a log-in with a Google account. To do that, follow these steps:
On the Form setup page, click on the "Settings" tab.
Click on the "Responses" dropdown menu icon to open it up.
Uncheck the option for "Limit to 1 Response" under "Requires Sign In".
8. Get Indexed In Google Images

You can build fast and easy backlinks from Google just by uploading images to your website. Google's crawler will find and index your images so they appear in Google Image Search.

However, the best strategy for SEO is to optimize three key areas to help your images rank higher in Image Search for your target keywords:
ALT Text: Include the keyword in a natural, accurate, and readable way.
Filename: Label the image file as your exact match keyword.
Metadata: Use Photoshop or some other image editing software to add keyword-optimized metadata that gets stored along with the image during upload.
9. Add Your Location to Google My Maps

Google My Maps is a feature in Google Maps that allows users to create custom maps for personal use or to share with others. It's also a good place to add a location for your business that includes your name, address, phone number, and website link.

To use Google My Maps for backlinks, you need to create a new My Map, then set up a new point on that map. Next, in the point description field, you can add your website's URL which automatically gets turned into a hyperlink after you save the changes.

Some link building agencies suggest adding a target keyword and the brand name into the point title field to help improve the SEO relevancy of the backlink in the description area.
10. Create a Google My Business Profile
Every business with a physical location should set up a Google My Business Profile to take advantage of its digital marketing opportunities. (You can visit this other page to find a full list of benefits of setting up a Google My Business listing.)
As for link building purposes, a GMB Profile allows you to create backlinks to your website and any other web resources you want, including your other Google properties.
If you're serious about maximizing the visibility of your Google My Business Profile, then make sure to check out this other tutorial on how to add keywords to Google My Business for a list of valuable tips for SEO.
11. Get Backlinks With a Google News Publication
How would you like to have your own direct backlinks from a Google News publication?
Well, now you can just by setting up an account with Google Publishing Center. This free tool lets you share your content with Google News by submitting RSS feeds, website URLs, or videos. And each of these resources gets instant backlinks as soon as Google crawls them from your Publishing Center account.
12. Get Listed In Google Podcasts
If you have a podcast for your website or business, then you should definitely add the show feed to Google Podcasts. This free Google service allows you to add a backlink to your website as a button in the show overview section (this is a nofollow link) and within individual podcast descriptions (these are dofollow links).
13. Use Google Sheets for Backlinks
Google Sheets is a spreadsheet program that lets you create and edit spreadsheets directly in your web browser. It can also be used to create a list of indexable links to help speed up the indexing process for a set of backlinks. (See this related guide on other ways for how to index backlinks fast In Google.)
To use this link building strategy to get a Google backlink, all you have to do is create a new Google Sheet and add the hyperlinks within a column in the file. After that, you then want to make the Sheet publicly acccessible for it to get crawled by search engine spiders using these two steps:
On the top-right of the Sheets, click on the "Share" button.
Under the General Access section, click on "Restricted Access" and change it to "Anyone with link".
What's also nice about Google Sheets is that you can embed the data table in other Google properties like Google Sites to help aid in crawling and indexing of the links listed in the file. Another good strategy here is to also add links to the other Google properties you set up so they get an instant backlink of their own from this free web resource.
14. Create Google Slides With Links
Google Slides is another platform you can use to create backlinks from Google.
With this link building strategy, you simply create a new presentation, then add backlinks to your website or another site within one of the slides. You can also add hyperlinks in the speaker notes section for any slide. All of which can either be contextual backlinks, branded links, or naked URL links.
15. Create a Google YouTube Channel
YouTube is another Google-owned property that allows you to create an unlimited number of backlinks. Plus, some of the links you can get on this platform are dofollow links that pass the most PageRank authority for SEO.
YouTube backlinks are good links to build because these types of inbound links can increase your website's Domain Authority and Page Authority, which both improve your site's SEO metrics.
You can read a complete guide on creating YouTube backlinks for SEO to find out all the ways you can get incoming links to your website from this Google property.
Final Tip for Creating Backlinks From Google
One final word of caution before you go and build a large number of Google backlinks at scale. As mentioned in Google's link schemes documentation, "Any links intended to manipulate PageRank or a site's ranking in Google search results may be considered part of a link scheme and a violation of Google's Webmaster Guidelines. This includes any behavior that manipulates links to your site or outgoing links from your site."
Keep that in mind as you're creating incoming links to your website from Google-owned properties. Don't just add low-quality links to each of these platforms with the sole purpose of improving your website's SEO rankings.
Google's algorithm can ignore or devalue links from any website, application, or online platform. So you want to do everything you can to make sure the content you're creating on Google that has backlinks to your website is high-quality and warrants a natural backlink for inclusion.
A better link building strategy that's safer from a potential algorithm penalty is to pick and choose a few Google properties that make the most sense for your business, brand, and website. Then create the best content possible on those platforms that benefit the user while also adding your site's backlink.
A high-quality Google Site, for example, that includes a lot of important information about your business and its brand, while also linking back to your website and other Google properties you've created (e.g., Docs, Sheets, Forms, YouTube, etc), is a perfectly legitimate way of using Google's own properties for backlinks. (This technique is the basic framework of Google Stacking which is an SEO method of stacking Google entities on top of each other to give every link more PageRank authority.)
A good rule of thumb before building any backlink is to ask yourself this question, "If a user came across this Google backlink asset, would it harm my brand?" If the answer is yes, then you should improve the content or remove the link. If the answer is no, then the hyperlink can be beneficial for your brand and the website's off-page search engine optimization.
Getting Google Backlinks Summary
I hope you enjoyed this guide on how to get backlinks from Google.
As you discovered, there are a number of ways for how to get Google backlinks from Google-owned properties. Plus, you don't just have to create inbound links to your website to take full advantage of these platforms for SEO and link building. It's also good to add links to your other Google properties to help improve the backlink profile for those sites as well.
I'm the creator of SEO Chatter. I've been fascinated with SEO since 2005 and have spent most of my waking hours consuming SEO content from the top professionals in this field. My goal is to share the best tips and news about search engine optimization so you can get more traffic to your website.