If you're looking for a complete Mangools review, then you'll find it here.
I've been using Mangools since 2015 and continue to rely on this software to analyze and improve the search engine optimization (SEO) for my websites.
Below, you'll find a comprehensive Mangools SEO review to help you make the best decision possible on buying this digital marketing tool. With the details on this page, you'll get an in-depth overview of the top Mangools features, pricing, and pros and cons to accurately compare it various with other SEO software you're considering.
The ultimate goal here is to provide you with the most detailed and trusted Mangools review you'll ever find on the Internet so you can decide once and for all if the suite of Mangools SEO tools is worth it or not for your needs. And if you do decide it's something you want to invest in then, you can try Mangools for FREE here using my affiliate link at no extra cost to you.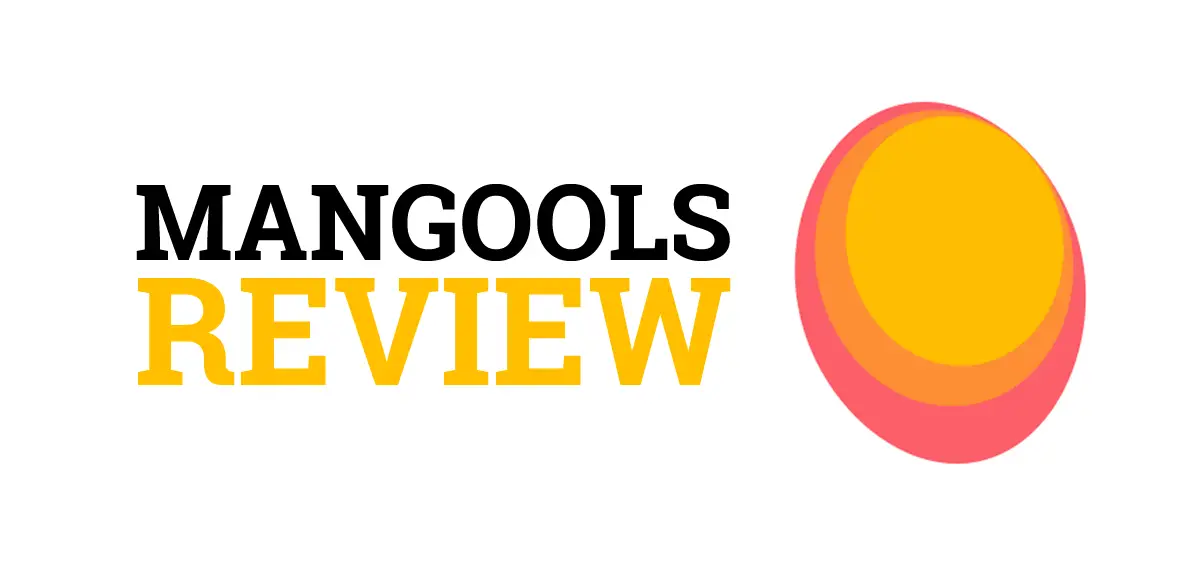 Mangools Review
This review will cover the top features of the 5 main apps in the Mangools SEO toolset, which include KWFinder, SERPWatcher, LinKminer, SERPChecker, and SiteProfiler. But before we dive into the details of the software, let's first look at what Mangools is and what it can do for you.
What Is Mangools SEO?
Mangools is an SEO toolset that's good for bloggers, affiliate marketers, freelancers, small to medium enterprises, and SEO agencies. Mangools contains tools for SEO keyword research, link building, SERP analysis, rank tracking, and competitor website analysis.
What Does Mangools Do?
Mangools SEO does your keyword research, website rank tracking, finds backlinking opportunities, reports SEO metrics for any site, analyzes the keyword strategy your competition uses, checks the SERPs, and lots more. Mangools can do the most important SEO tasks for growing a website or blog using search engine optimization.
Average Mangools Ratings
Based on the customer reviews, Mangools software has received the following average ratings:
Overall: 4.8 stars
Ease of Use: 4.7 stars
Customer Service: 4.7 stars
You can read sample customer reviews with both positive and negative comments towards the bottom of this Mangools SEO review guide.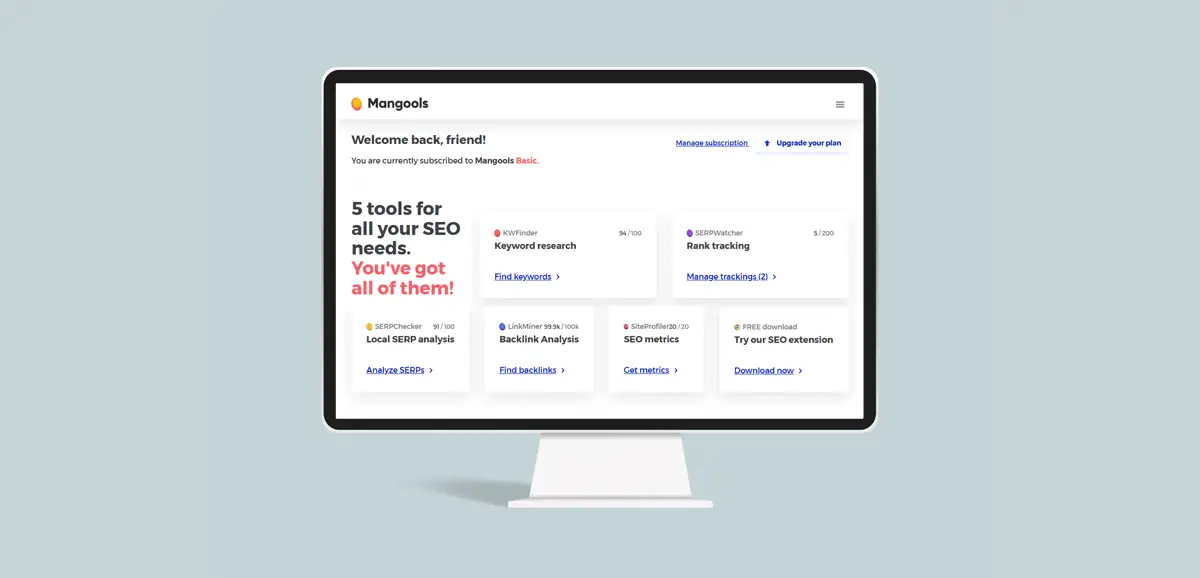 Mangools Features
Mangools features include keyword research, competitor analysis, backlink analysis, rank tracking, and SERP analysis.
KWFinder
KWFinder is a keyword research tool for search engine marketing. With this tool, you can quickly find keyword suggestions to target on your website for new content or to update existing content with more relevant search terms.
You can try KWFinder for FREE here.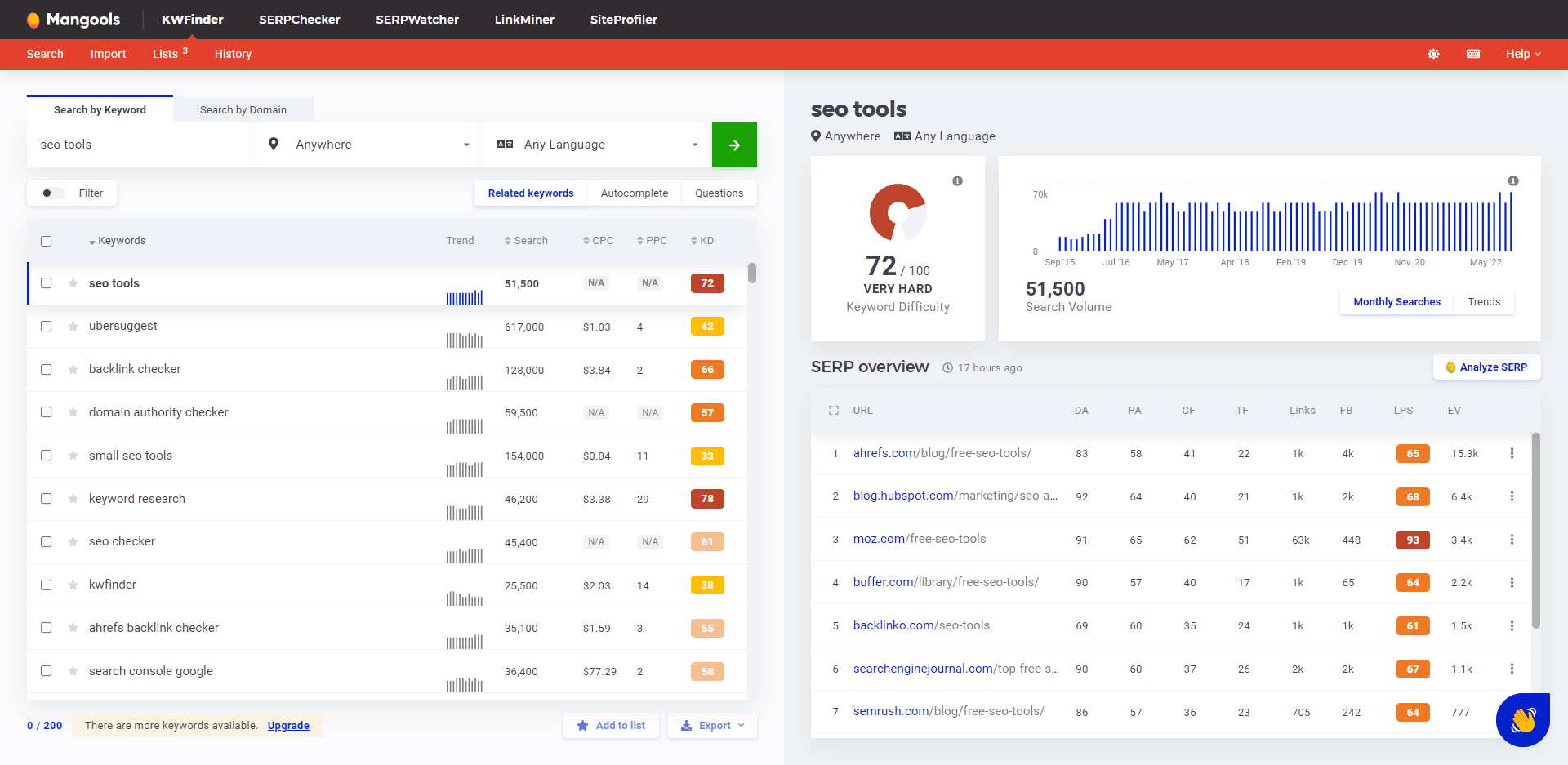 By entering a seed keyword into the "Search by Keyword" field, you can generate a list of keyword suggestions that are directly related to the term. You can also click on the "Autocomplete" tab to recommendations from Google based on its autosuggestion feature. Additionally, you can click on the "Questions" tab to get a list of keywords that target questions you're audience is looking to get answers to online.
Best of all, KWFinder also has a "Search by Domain" feature that allows you to input the main domain or target URL of a competitor to find out what the top-ranking keywords are for that page. This is a great function to find new keywords to target for your own website.
You can also narrow your keyword suggestions down by specific countries and languages by changing the selection in the dropdown menu next to the search field.
One of the best features of Mangools KWFinder is that each keyword recommendation includes four important metrics:
Trend: This feature shows you how the keyword interest has been trending over the previous 12 months.
Search Volume: This SEO metric shows you the average monthly search volume data.
CPC: This value reports the average cost-per-click (CPC) in Google AdWords which indicates how competitive the keyword is for advertisers.
PPC: This value reveals the level of competition for pay-per-click (PPC) ads in Google AdWords (higher numbers mean more competitors).
KD: This SEO metric indicates the Keyword Difficulty (KD) score, which calculates the Link profile Strength (LPS) or the top-ranking URLs. KD scores below 29 are very easy keywords to target while 30 and above indicate that it may be more difficult to rank a web page without a strong backlink profile.
When you click on a keyword in KWFinder to analyze it, you also get the following SEO data for the top-ranking URLs so you can measure the strength of the competition:
DA: Domain Authority is a ranking score developed by Moz that estimates the authority of the entire domain based on its backlinks.
PA: Page Authority is another ranking score by Moz that estimates the authority of the specific page based on incoming links.
CF: Citation Flow is a ranking score developed by Majestic that estimates the influence of a URL based on the number of backlinks it has.
TF: Trust Flow is another ranking score by Majestic that shows the strength of the URL based on the quality of links pointing to the page.
Links: This reports the total number of incoming links to the URL. You can hover over it to see a breakdown of unique referring domains, referring IPs, and subnets.
FB: This shows the number of Facebook shares provided by the Facebook API.
LPS: This is a proprietary SEO metric by Mangools that estimates the Link Profile Strength for the ranking URL.
EV: This provides an estimated number of visits per month to the URL based on the ranking position in the SERPs.
At any time, you can click on the "Analyze SERP" button to get an overview of the first page of Google to get a quick snapshot of the what real-time search results page looks like for the user. You can use this information to check elements like meta titles, descriptions, and the impact of various SERP features.
As you can see, KWFinder has everything you need to do effective keyword research for SEO. This is my own go-to tool for finding great keywords to target for my websites and is one of the top reasons why I recommend it.
SERPWatcher
SERPWatcher is a rank tracking tool that tracks the overall progress of your website's ranking positions in the SERPs for individual keywords. It also provides some other important data to help you measure the impact of your SEO efforts.
You can try SERPWatcher for FREE here.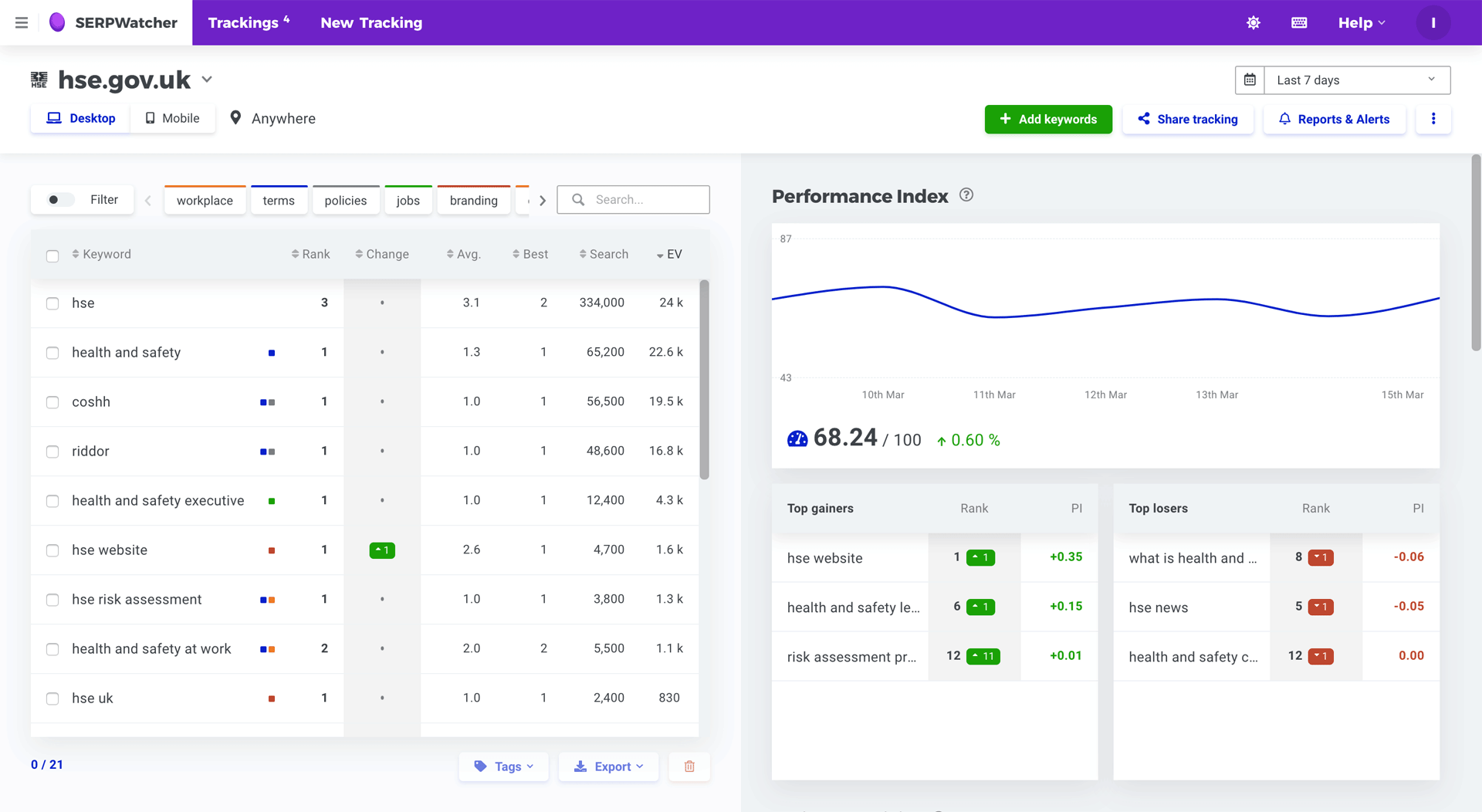 The top features of Mangools SERPWatcher include:
Keyword: This is the keyword you're tracking.
Rank: This is the current daily ranking for the keyword.
Average Position: This reports the average ranking position of the tracked keyword based on the selected time frame.
Best Position: This shows the best ranking position for the keyword.
Search Volume: This shows the estimated monthly search volume for the keyword.
EV: This reports the potential organic search traffic gathered from the tracked keyword based on the ranking position.
One thing to keep in mind is that if you want to track the keyword rankings for both desktop searches and mobile searches, then you'll have to set each report up separately. SERPWatcher does not track both types of search positions by default.
Some other good functions of the SERPWatcher dashboard include:
Button for switching between desktop and mobile rankings.
Time frame selector for today, last 7 days, last 30 days, last 90 days, entire history, or custom dates.
Performance Index (PI) that indicates how well your website is ranking in Google's SERPs based on your tracked keywords. The PI scale is from 0 to 100 with higher numbers indicating better overall performance of your rankings.
Top gainers and losers boxes so you can quickly find out which keywords are doing the best and the worst each day in the SERPs.
Keyword position flow and distribution section that represents how many keywords in the tracker went up, down, or remained unchanged.
One of my favorite features of Mangools SERPWatcher is that you can tag keywords in the keyword table so you filter them based on the tag. This is a good function for sorting your keywords into categories so you don't have to scroll through the entire list to find certain types of keywords or search terms that belong to a specific topic.
What's also nice about SERPWatcher if you're a freelancer or SEO agency is that you can share tracking reports with clients without having to give them user access credentials. By clicking on the "Share Tracking" button, you'll get a link to share with others that includes an interactive report in which they can view the keyword data and dashboard insights without being able to make any changes.
LinkMiner
LinkMiner is a backlink analysis that helps you find the backlinks of your competitors so that you can try to replicate them.
You can try LinkMiner for FREE here.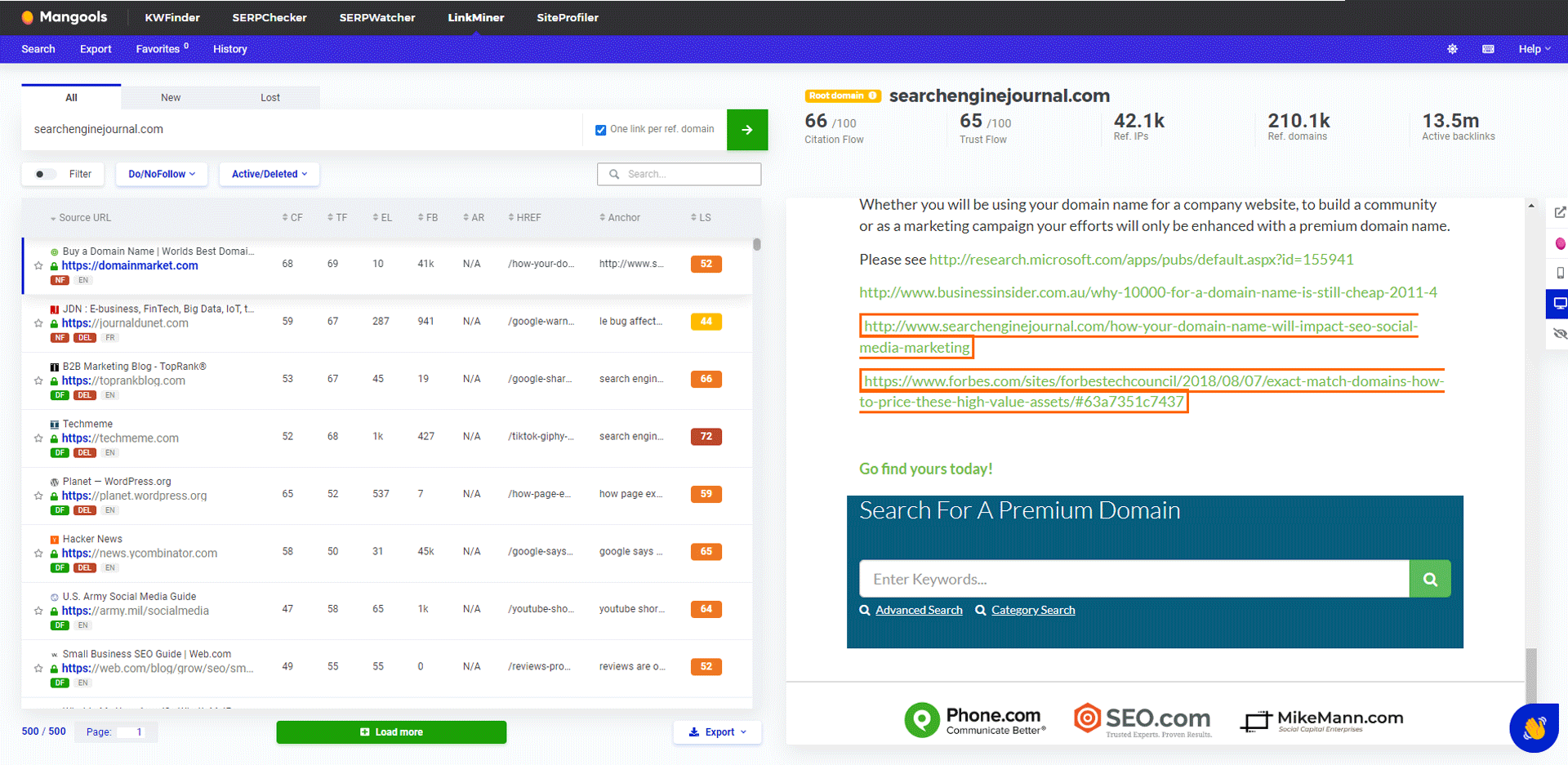 One of the top features of Mangools LinkMiner is that the backlink database is based on the Fresh and Historic Indexes by Majestic which contains more than 2 trillion crawled URLs. So you're able to cheap access to expensive SEO link data by investing in LinkMiner versus Majestic.
When you search for a domain or URL into LinkMiner, you can switch between the following link reports:
All Links being reported in the database.
New Links based on the last 30 days.
Lost Links that have been deleted by the linking site owner.
For each backlink that's reported in the dashboard, you can analyze the following SEO metrics:
Citation Flow: This measures the link strength based on the number of incoming links to that backlink URL based on a 1-100 scale.
Trust Flow: This measures the link strength based on the quality of the inbound links to the backlink URL based on a 1-100 scale.
Referring IPs: This reports the number of different referring IPs pointing to the backlink page.
Referring Domains: This reveals the number of referring domains pointing to the backlink page.
Total Backlinks: This reports the total number of backlinks based on Majestic's Fresh Index.
Some other important features of LinkMiner that allow you to do more effective and faster backlink analysis include:
Filter for narrowing backlinks to a set of preferences, such as the minimum or maximum Link Strength, Citation Flow, Trust Flow, and total external links.
Website preview function that loads the link page in a viewing pane and automatically scrolls down to the backlink and highlights the anchor text so you can assess it for off-page SEO purposes.
Favorites feature that allows you to save selected backlink opportunities you can try to get during a future link building campaign.
Overall, LinkMiner has the top SEO metrics you need to do fast backlink analysis. The option for narrowing the list of links down to dofollow vs nofollow links is also a good feature for finding the best links you can copy from your competitor's backlink profile.
SERPChecker
SERPChecker is a SERP analysis tool that allows you to quickly scan the SEO keyword difficulty, Link Profile Strength, Moz and Majestic scores, and social metrics for the top-ranking URLs for a given keyword.
You can try SERPChecker for FREE here.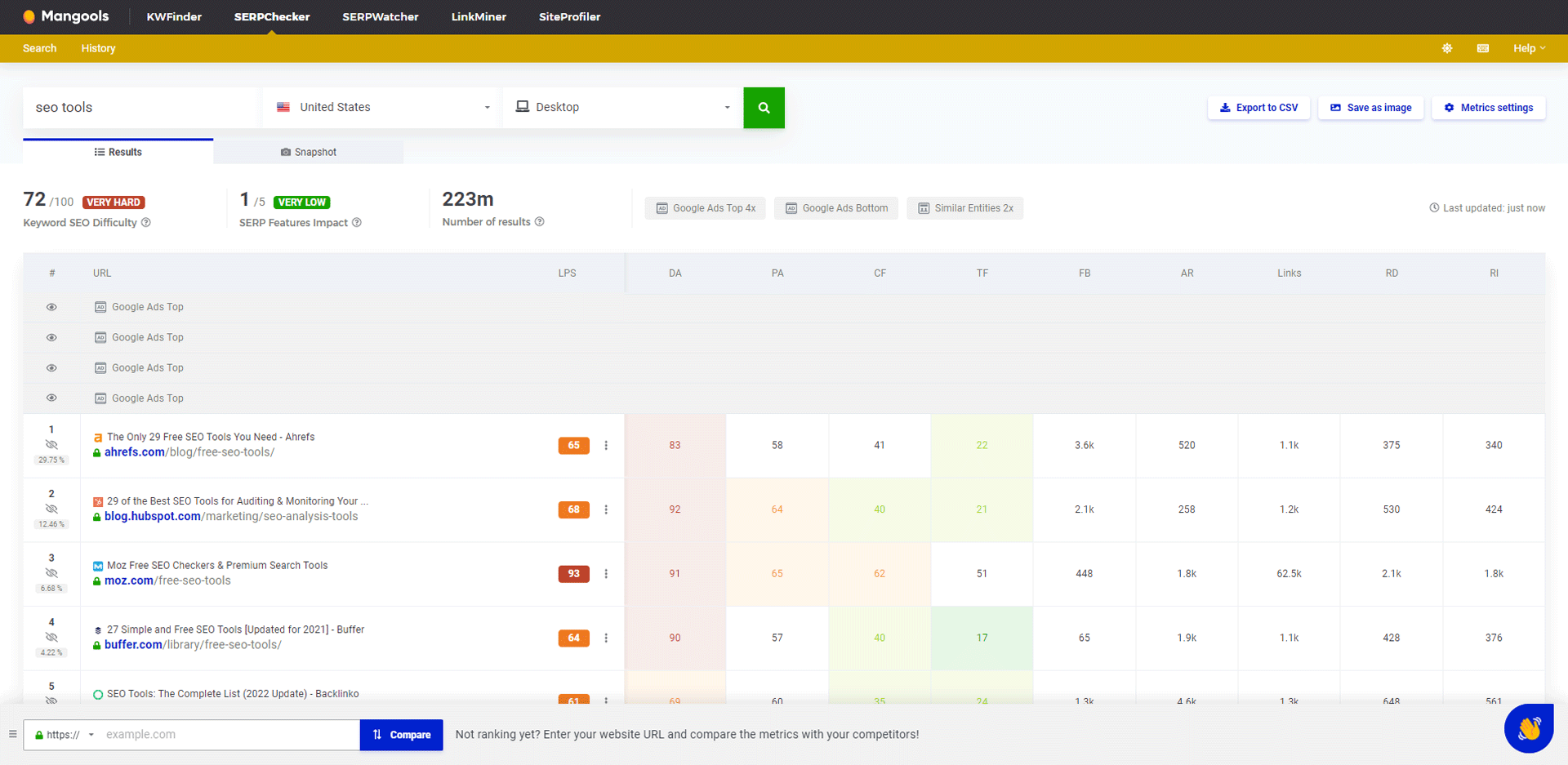 Another great feature of SERPChecker is that you can instantly analyze the Google SERPs without having to open a new web browser. Plus, you can see the impact of the various SERP features to find out how Google is displaying the search results page to its users.
SERPChecker is an easy tool to use and doesn't require much training to figure out how to analyze the data on its dashboard. You simply enter a target keyword and view the results.
One of the top features of Mangools SERPChecker is the Compare Box. With this feature, you can add your website's URL to quickly compare your SEO metrics with any of the competitors in Google SERP.
SiteProfiler

SiteProfiler is a competitor analysis tool that provides key SEO metrics and insights. You can enter the root domain or URL for any website and click on the "Analyze Website" button to get a full SEO report.

You can try SiteProfiler for FREE here.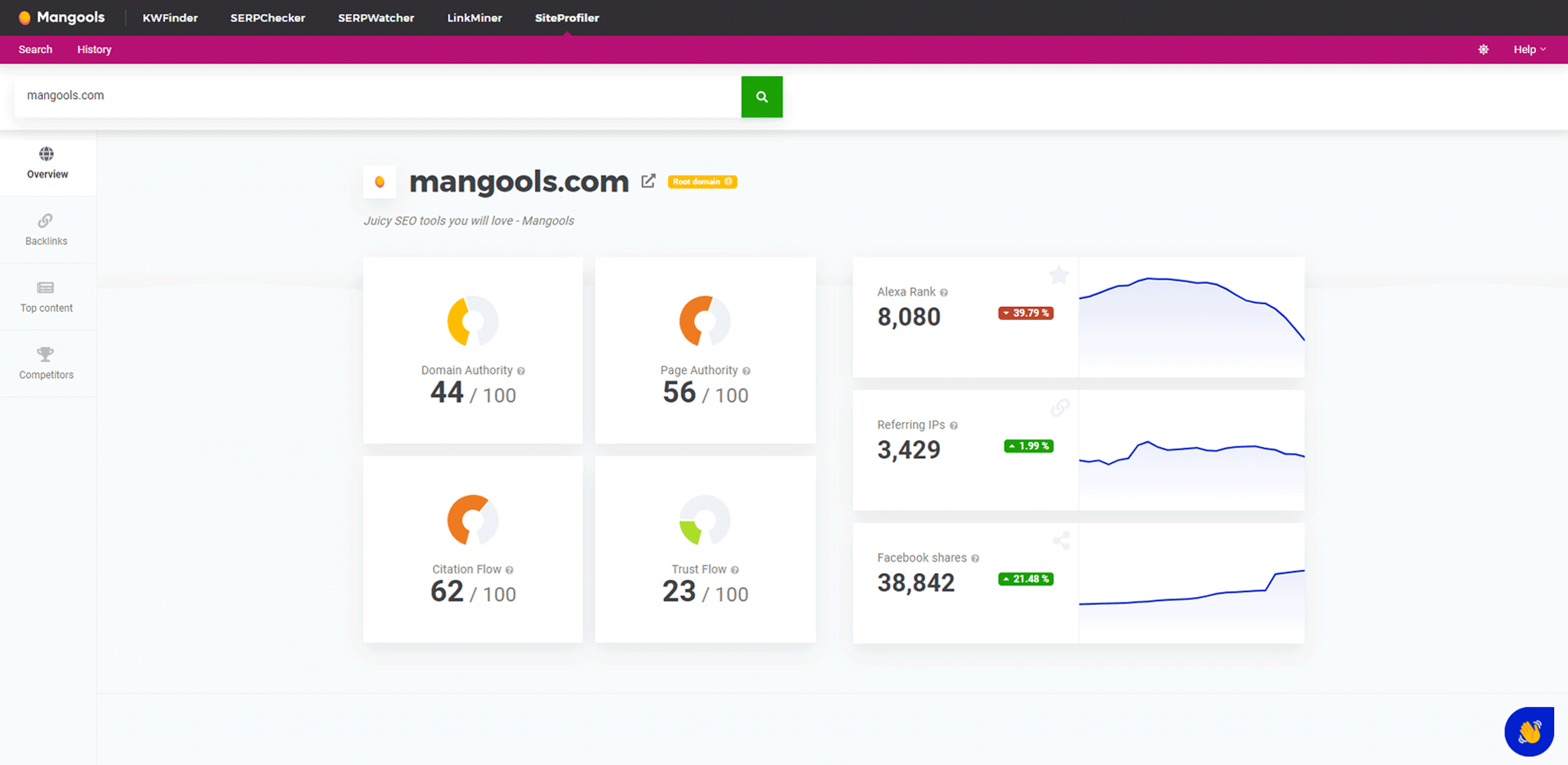 SiteProfiler shows the following information for you to analyze:
Overview: This gives an overview of the Domain Authority, Page Authority, Citation Flow, Trust Flow, Referring IPs, and Facebook shares.
Backlinks: This chart shows a graph with a trend of the total number of backlinks in the last 4 months along with a pie chart with the ratio of dofollow vs nofollow links. It also shows link type distributions, number of referring domains, IPs, and subnets, anchor texts, and more.
Top Content: This shows the best URLs on the website in terms of the number of Facebook shares and referring domains.
Competitors: This reports the similar websites that the algorithm determines are top competitors for the analyzed domain or URL. You can quickly analyze any of these sites by clicking on the "Analyze" button under its profile box.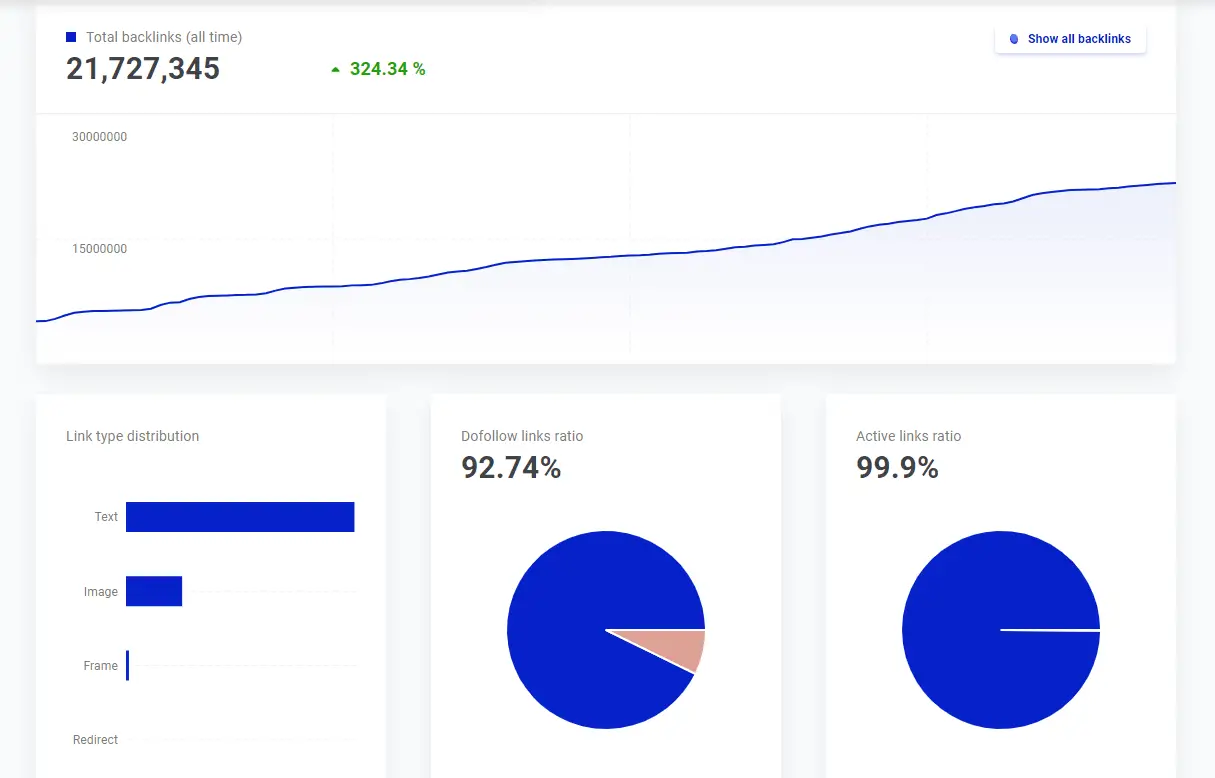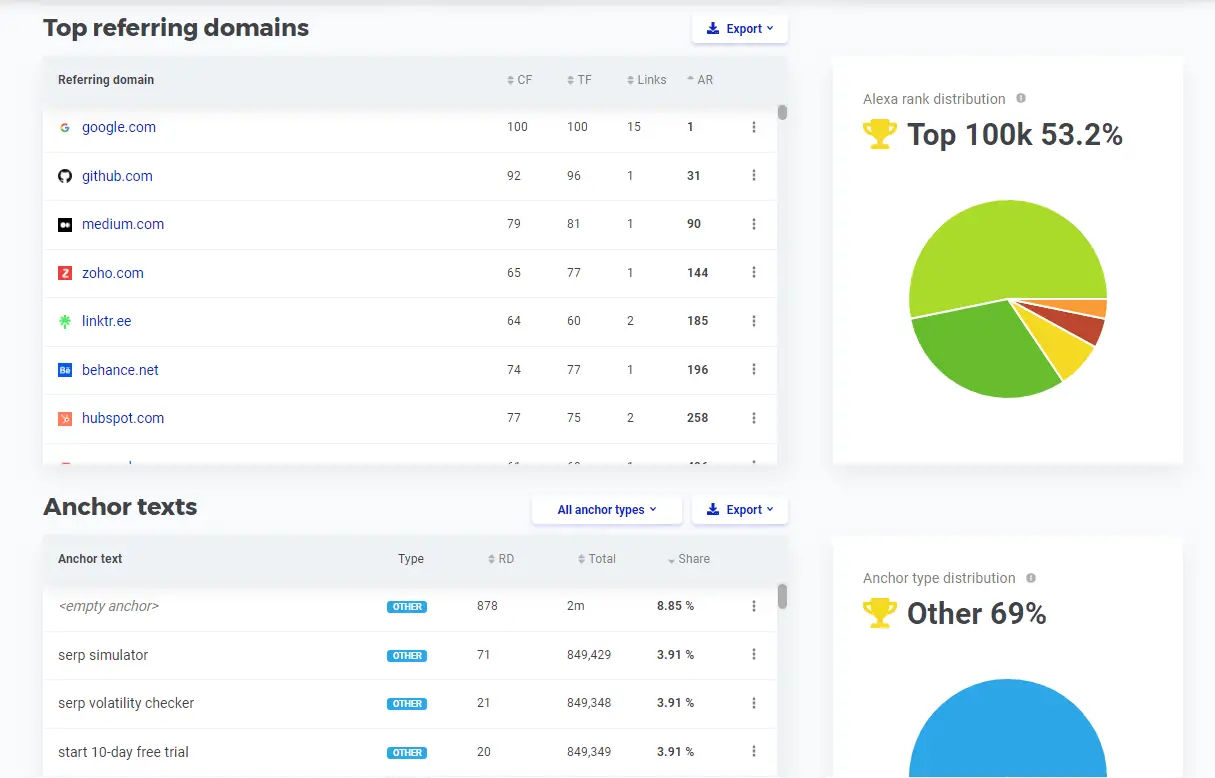 As a Mangools subscriber, I don't use the SiteProfiler feature all that much. It's certainly good for getting a quick overview of a competitor's website, but you're better off using KWFinder and LinkMiner to get the specific SEO data you need to guide your search engine optimization strategies.
Mangools Pricing
Mangools has three pricing plans that can be billed in monthly payments or yearly subscriptions. Each plan includes the same Mangools features; however, there are certain limits put on the SEO data that can be pulled every 24 hours.
Mangools Basic: $49/month or $29.90/month if paid annually.
Mangools Premium: $69/month or $39.90/month if paid annually.
Mangools Agency: $129/month or $79.90/month if paid annually.
Note: These were the current prices at the time of this Mangools SEO review. Prices are subject to change at any time.
Mangools SEO Customer Support Options
Mangools SEO has two customer support options:
Live Chat: Available from the chat icon on any web page.
Email: Sending an email to [email protected].
Each time I've reached out to the support team, I've had an instant reply or a follow-up email within 24 hours. Except for the rare occasion when I contacted Mangools on a holiday, the customer service team has been very responsive to my questions.
Mangools Money Back Guarantee
Mangools offers a 48-hour refund policy. You can claim a refund by contacting the company at [email protected] or through the live chat feature. I think this is a fair refund policy because Mangools does give you a free trial to test out their software for 10 full days before purchase. You can try Mangools FREE here using my affiliate link.
Mangools SEO Affiliate Program
One of the ways you can recoup your monthly subscription fee for Mangools is by joining their affiliate program. As a Mangools affiliate, you can get 30% lifetime commissions by promoting Mangools SEO tools.
What's great about the Mangools affiliate program is that there's no approval process. You can create a free user account and start earning commissions now. You can use my Mangools affiliate link here to get set up today.
This affiliate feature of Mangools really sets it apart from other SEO tools on the market because many of the top competitors, like Ahrefs, Ubersuggest, and Moz, do not have an affiliate program for customers to earn money by promoting a product they love and use to improve their websites.
Mangools Pros and Cons
Below is a list of the top pros and cons of the Mangools SEO tool. As a user of this SEO software, I have found these to be the most common advantages and disadvantages of the product.
Pros
All-In-One SEO Toolset: Mangools has everything you need to create an effective SEO strategy for your website or blog. The 5 SEO tools it includes is a complete solution for most bloggers, affiliate marketers, niche site owners, small business, and SEO agencies.
Affordable: Mangools is one of the cheapest SEO tools on the market. It's 1/3 the price of Ahrefs and 1/4 the price of Semrush which are two of Mangools top competitors.
Great User Interface: The Mangools user interface is simple and easy to use. Plus, you can get to most functions and SEO data is 3 clicks or less.
Powerful Keyword Research: Mangools KWFinder is one of the best keyword research tools on the market (although it does have some limits as mentioned in the cons section below). You can search for related keywords, get Google autocomplete suggestions, and find question-based search queries. You can also scan your competitor's URLs to find their top-ranking keywords to target on your own website.
Excellent Rank Tracking: Mangools SERPWatcher accurately tracks your keyword rankings on a daily basis and reports historical ranking positions.
Good Backlink Analysis: Mangools LinkMiner is a fast way to analyze your competitor's backlinks so you can find new opportunities to build your own links based on their backlink profile. Includes filters dofollow vs nofollow links, Citation Flow, Trust Flow, Link Strength, and more.
Fast SEO Analysis: Mangools allows you to switch between each of the 5 apps quickly and easily to get the SEO data you need to make data-driven decisions for your website. For example, you can search for a keyword in KWFinder and click a button to bring up SERPChecker to analyze to analyze the top 10 ranking URLs without having to do a manual search on Google.
Cons
SEO Apps Are Separate: Each of the 5 apps in Mangools has its own URL instead of being collected into a single domain. This used to be annoying as a user but Mangools has set up a top navigation menu bar to allow you to easily switch between the apps with ease.
Smaller Link Database: Mangools LinkMiner doesn't have as large of a backlink database as Ahrefs or Semrush. It's also only updated a few times per year because the costs to crawl the entire web are so high. However, the data LinkMiner does include is good enough for the typical blogger, affiliate marketer, or small business owner who is not focused on link building day in and day out.
Some Keywords Need a Manual Refresh: Mangools KWFinder doesn't calculate the Keyword Difficulty (KD) Score for every keyword in its database on a daily basis. The data processing for such as task would require you to pay a higher subscription fee. Therefore, some keyword suggestions need to be manually refreshed to get up-t0-date KD scores which is not that big of a problem for most users.
Basic Plan Limits Can Get Used Quickly: The Basis Plan is the cheapest option for the Mangools SEO suite; however, the data lookup limits can be used up quickly if you're doing a lot of daily SEO analysis. Fortunately, your quota resets every 24 hours. But, you may want to upgrade to the Premium plan if you're finding the Basic plan to be too limited.
Best Price Requires Annual Subscription: Mangools offers the best deal on its SEO software if you subscribe on an annual basis. You can save 40% off the monthly price by choosing this option. However, it would be nice if the fee for monthly subscribers was less given the fact that competitors like Ubersuggest have a similar pricing level without a yearly commitment for its users.
Who Is Mangools For?
There's no question that the Mangools SEO suite is worth it for anyone who wants an affordable SEO tool that can give them the data they need to make better digital marketing decisions to improve their website's search engine optimization strategy.
However, Mangools is not the perfect option for everyone. Mangools features would be the best choice for these types of people:
Bloggers who want an easy-to-use SEO tool without a complex learning curve.
Niche website owners who are on a budget and want access to powerful SEO data for their website and to conduct competitor research.
Affiliate marketers who want a rich toolset for doing keyword research, ranking tracking, and link building.
Freelancers who offer a wide variety of SEO services to clients but do not need the advanced capabilities of a tool like Ahrefs or Semrush.
Small to medium-sized enterprise businesses that need an effective tool for an in-house digital marketing team for performing search engine optimization work.
SEO agencies that partner with smaller clients whose needs do not require an advanced SEO tool with complex features.
If you identify with any of these attributes, then I invite you to try Mangools for FREE here using my affiliate link. That way you can try out all of the features to make sure it's the right choice for you.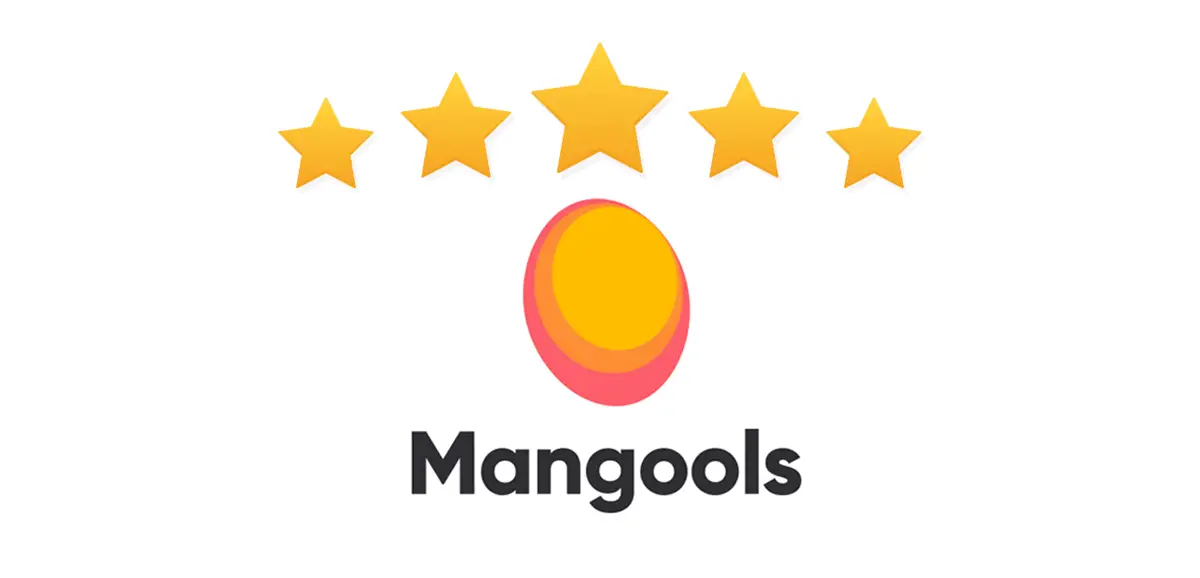 Mangools Customer Reviews
If you're wondering what others think about the suite of Mangools SEO tools, the following Mangools reviews can give you helpful insight into the top positive and negative comments from other websites across the web about this software.
Positive Reviews
"Mangools is an amazing SEO tool. I've tried many other tools like Mangools in the past 5 years, however, they weren't so complete and didn't offer a google ranking for keywords, such as Mangools. Another point is that Mangools is very user-friendly offering an enjoyable experience in our daily routine."

Adriano A. (G2)
"Mangools Basic is the perfect solution for my small SEO business. Using the keyword finder I have been able to find the perfect words to use in the site's headers, SEO titles, meta sections and all those important areas that help your website to be found by the right people. I have yet to scratch the surface on the other tools such as rank tracking, SERPChecker, backlink analysis, and a site profiler."

Brandon M. (G2)
"The most complete tool for keyword research. I like that it is a very complete tool for keyword analysis. It shows you the complete information of the competitors and to be specific you can analyze the information of a specific city."

Jose Daniel T. (G2)
"Most powerful SEO software for website optimization. Mangols is much faster than other SEO tools, offers autosuggestions for keywords (one of its best features), and has already been used by some of the top companies in the world."

Shabam M. (G2)
"Great keyword research tool for entry-level small business. My overall experience was very good. I like the ease-of-use. I liked how quickly you could get things done and make key word lists. I liked how you could navigate through the various features in the software."

Cliff (Software Advice)
"The paid version of GoogleKeywordPlanner & Moz/Ahrefs alternative! 1 of the MOST ACCURATE keyword difficulty tool available for Google search in today's world. Reinforced by a thorough case study"

WaiHow (Software Advice)
Negative Reviews
"The site is just crap. I don't know as I cannot use it because you have locked me out and said that I am on a trial when I am not"

Celine (Software Avice)
"We find the site Profiler backlink results are not always accurate based for example on links we know our site has have that do not show in the Mangools results."

Paul C. (Capterra)
"Their LinkMiner isn't quite as accurate as, say aHrefs in picking up backlinks on the sites that I checked. I understand that it's new, and it will be something I'm sure they'll work hard to tweak in the near future."

Nik D. (Capterra)
"The limits on certain things such as SERP watching [based on the plan price] can be a bit annoying."

Jack R. (G2)
"Tutorials on how to sync the API to Google Sheets is the only issue I'm working to solve."

Stephen (Software Avice)
"The bundle might not be for everyone. For example, I make use mostly of a couple of tools but am priced for all of them."

Anonymous (Software Advice)
Mangools SEO Alternatives
Mangools is not the only solution for SEO analysis. If you want to compare Mangools to other software on the market, then these are the top alternatives for Mangools SEO:
Ahrefs
Moz Pro
SEO Powersuite
SE Ranking
Semrush
Serpstat
Ubersuggest
Note: Some of these SEO tools are more robust than Mangools; however, the pricing is also much more expensive. Before you choose one of these Mangools alternatives, you should consider the actual features you're going to use in the software to make sure it's worth it for your needs.
In my experience, Mangools has everything you need as a blogger, niche site owner, affiliate marketer, moderate size enterprise business, and an SEO agency that works with smaller clients. The extra expense you'll incur for the more professional-grade SEO tools is not always needed to get positive results for a small to medium size website.
Is Mangools Worth It?
Mangools SEO is worth it if you're looking for an affordable SEO tool that is user-friendly and has all of the necessary features to help you improve your website's search engine optimization strategy. Mangools is perfect for anyone who wants quick keyword research, rank tracking, SERP analysis, link building, and site profiling.
I invite you to try Mangools for FREE here using my affiliate link. You're not charged a penny more, but I will earn a commission if you ever do decide to upgrade to a paid plan as mentioned in the affiliate section of this review above.
Mangools Review Summary
I hope you enjoyed this Mangools review.

report this ad
As you discovered, there are many Mangools features you can use as a blogger, niche website owner, affiliate marketer, freelancer, small to medium enterprise, and SEO agency to make better data-driven digital marketing decisions to improve your website or a client's site for search engine optimization.
Hopefully, this in-depth Mangools SEO review gave you everything you need to make the best decision for your needs as an Internet marketer or SEO specialist.
I'm the creator of SEO Chatter. I've been fascinated with SEO since 2005 and have spent most of my waking hours consuming SEO content from the top professionals in this field. My goal is to share the best tips and news about search engine optimization so you can get more traffic to your website.